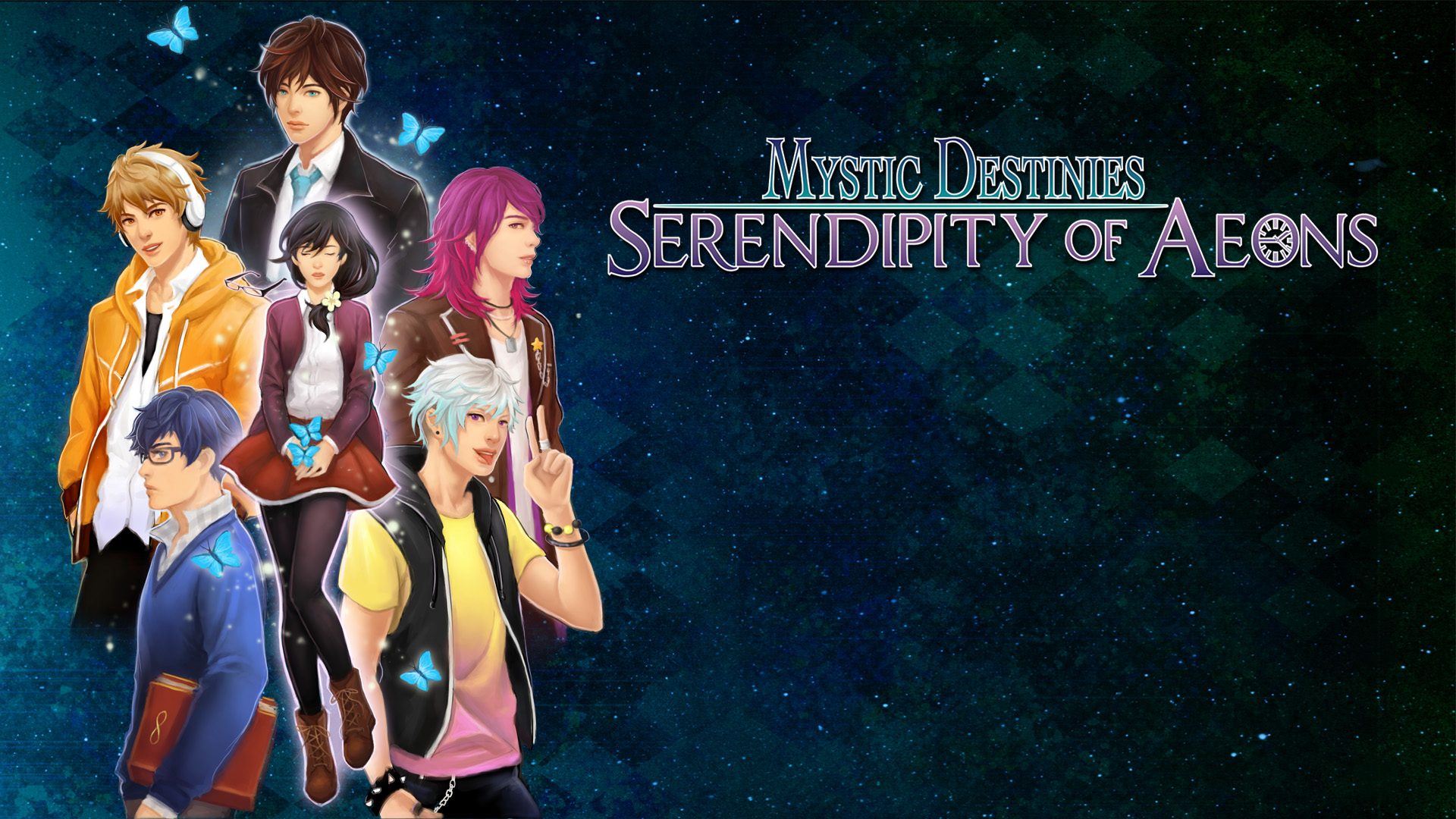 Mystic Destinies: Serendipity of Aeons
A downloadable visual novel for Windows, macOS, and Linux
This download is only for the demo! This includes the complete prologue and sneak peeks of each guy's first chapter. It is completely free! However, if you should choose to use this support us in any way, it will go directly toward the development of the game.
---
You are an intelligent and practical college student attending one of the best universities in Japan.
Life is pretty normal until your mother takes you to her ancestral home. Your life entirely changes when you're introduced to the hidden supernatural world within ours.
After your magical powers are awakened, you're forced to team up with a partner for your safety and others until you can get your powers under control. Will your tragedy turn out to be serendipity after all? You decide.
---
★ Planned Features★
5 romancable guys
Detailed sprites and backgrounds
Several gorgeous painted CGs per route
3 canon endings per character - depending on your choices!
At least 4 hours per main story with additional content on the way!
---
Serendipity of Aeons is the first planned otome visual novel in the Mystic Destinies universe, one where all myths are true.
Our aims were a high quality otome visual novel in a modern urban fantasy atmosphere, with a strong and intelligent main character who had her own story to tell. We wanted her to be an equally like-able character and partner to the guys in her own right.
We also wanted to maintain a balance between dark and light themes with a strong emphasis on fantasy and action.
Our first route is planned for release on February 11, 2016.
Follow our progress here:
| | |
| --- | --- |
| Published | Nov 21, 2015 |
| Status | In development |
| Platforms | Windows, macOS, Linux |
| Rating | |
| Author | Aeon Dream Studios |
| Genre | Visual Novel |
| Tags | Action-Adventure, Action RPG, demo, Fantasy, free, Otome, Romance, urban-fantasy |
| Average session | About a half-hour |
| Languages | English |
Download
Click download now to get access to the following files:
mystic-destinies-serendipity-of-aeons-win-linux-mac.zip
618 MB
Comments
Log in with itch.io to leave a comment.
love the art style and the story .
love love love the game and wanted to ask, do we have to unlock the teacher's romance or is it still in the works
I believe its coming out this summer. :) Im patiently waiting for his too since last year... ><
I got this game on steam, and it's fucking amazing. I wasn't expecting to like it so much, it's perfect - blending writing and art into elixir that punch your gut with magic, that you dont have enought of. I love the world heroine lives in, it's so amazing getting to know different aspects of it per route. Art is gorgous, it's so pretty to look at, and it's in pair with writing. Can't wait for Takumi route soon!
Hmm, when will the game be released and where to buy it? :)
Love what I've seen so far, can't wait to play the full game.
Hey thanks for the info, I've bought all the dlc's on steam and even added a small pledged of my own as I love this game, and can't wait to try more of it!!
Only sad thing is that no matter what I do, I can't seam to trigger any of the 3 epilogues I've got and atm steam in no help (sigh).
Anyway great job job on all the charaters so far out (Shinji's being my favorit atm, closly followed by Shou), :D
Thanks so much! Could you email us at support@aeondreamstudios.com about your issue? But just in case there's just some confusion, you must go to the select a character screen > then click the character > then click Epilogue in the top menu after finishing their main story.
Hi, oh I know you had to click the epilogue, but it was a problem with the game and steam, but after me and a friend uninstalled it (and verified the integrity of the game cache 4 times) it finally worked :) - in case someone els has had this issue :)
But may I ask if there are more stories about the characters or if there will be more a 2nd game to follow up on the epilogues? (only played 1 of them, but at the last chapter I couldn't help but yell "No, that can't end like that! what happens after the attake?!?" lol
I've seen a few comments about comic's releted to the games?
THE ARTWORK IS AMAZING HOLY FLIPPITY FUJVCUDK
star maiden, you will give us the full version. now. *points banana phone at you menacingly*

Can't wait to play the full game. It looks fun.
I really loved the story! Shou and Tatsuya were my favorite characters :3 Can't wait for the full story :D
Sorry btw for the ''deleted post'' my message sent out 3 times lol so i deleted it xD
Thank you so much! It makes us super happy to hear when people tell us their favorite characters especially. You're in luck being that their routes are the first two that we're releasing too!