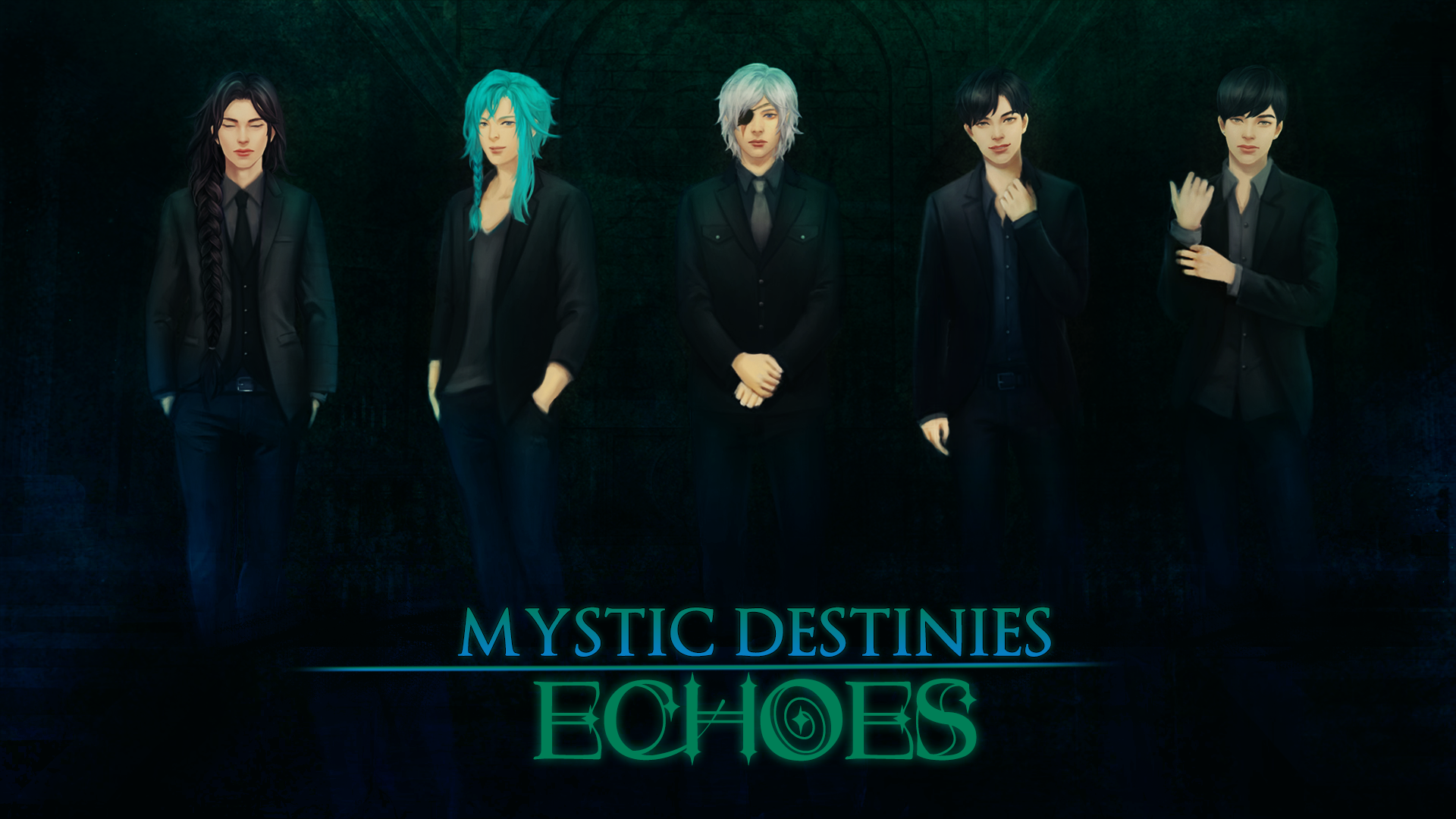 Mystic Destinies: Echoes
A downloadable visual novel for Windows and macOS
THIS IS AN IN-DEVELOPMENT OTOME VISUAL NOVEL GAME RELEASED EPISODICALLY.
Available:
Chapters 01 up to Chapter 09 (the entire common route/main plot)
Cillian's Route (Chapters 10 - 13 + 2 endings & coda)
Naoki's Route (Chapters 09-11 + 2 endings & coda)
Half of Jun's Common Route scenes
Ajané here! This page was created for Kickstarter backers and patrons of my Patreon, However, since it's my main project for the next few months, I've decided to release it to the public (provided they pay the access fee) if they wish to follow along. If you just want to check out the free demo, go here.
Mystic Destinies: Echoes will be updated in small, continuous updates as I finish the game.
Rating: Please note that although this game is not yet rated, and contains no nudity, it contains mature language, sexual themes, mention of alcohol/drugs, and is generally aimed toward mature audiences.
Features
Currently features 100,000+ words, the length of a novel! :)
8 Common Route Chapters featuring unique character-specific scenes within them.
3 Character-Specific Chapters (their route)
2 alternate endings per character, dependent upon your choices

Route Release Order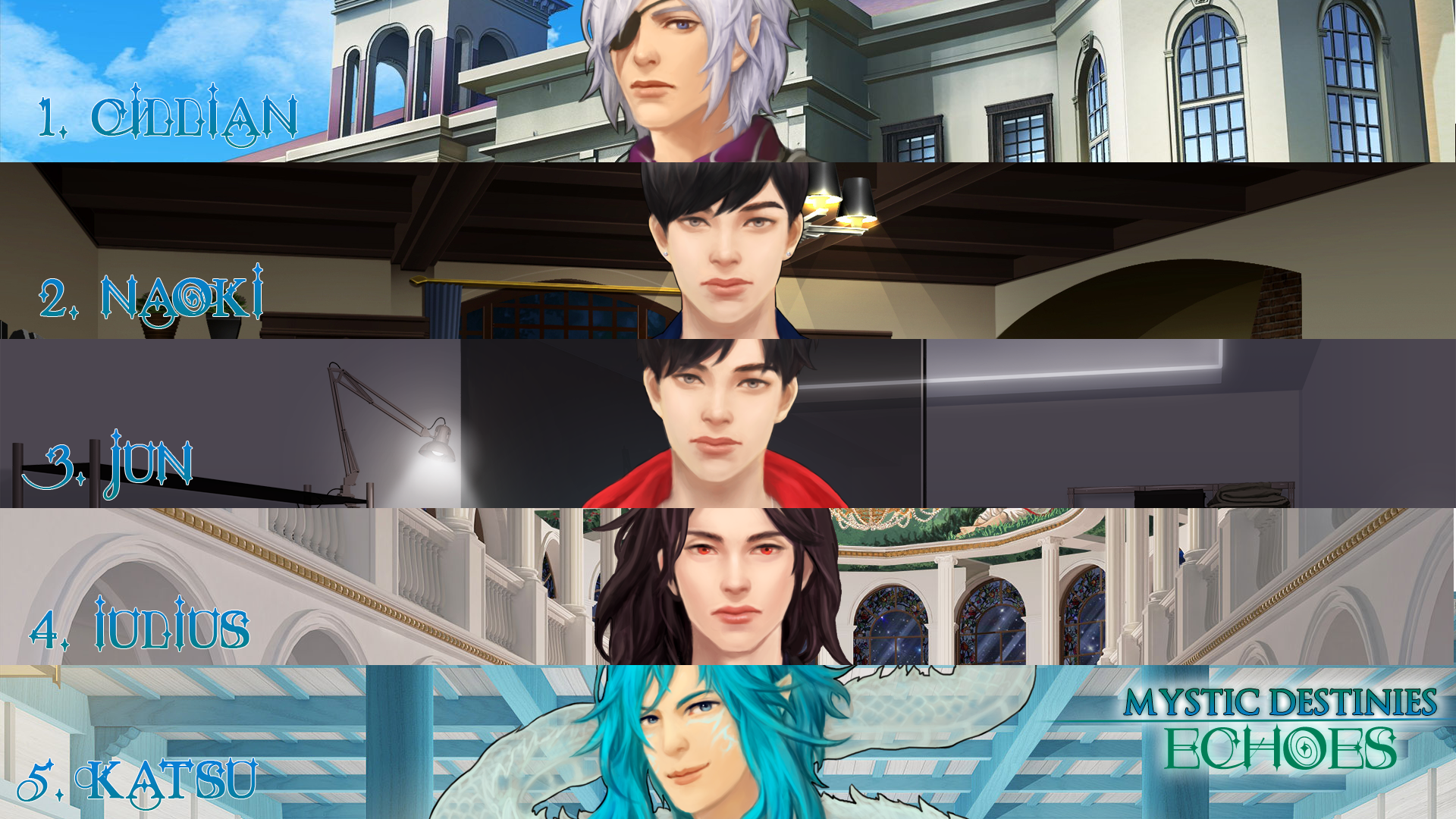 Update - June 2021: As of right now, Iulius and Katsu's route has been cancelled at the discretion of the creator, although it could appear later, the game will be considered complete after Jun.
After all content is added, I'll be hiring another programmer to help me get all functionality available and more polished on a technical level. This is the first game I am programming all on my own, so bear with me as I learn!
Please note: While the bottom navigation is disabled, the side menu should work just fine!
About: After a two-year delay after being funded, and the original team dissolving, MDE is now being finished in episodic releases through Itch.io by ADS founder & former leader, Ajané. In this spin-off otome sequel to Mystic Destinies: Serendipity of Aeons, you have the opportunity to get to know and fall in love with MDSOA's antagonists. That, of course, means a darker story than MDSOA, so open-minds will be needed to turn these men around.
Story: Become Aurelia, a rare winged Sylph of Avalon who makes her living as an information broker in the red light district of Yoru.
Despite Aurelia's job, she prefers to live life as peacefully as possible—unless there's an adventure involved. In her past lies many exploits, some so old they're nearly forgotten, and some so fresh she can still feel the chills. But there's one Aurelia cannot forget. One that has come back to haunt her.
In the dark depths of the mythical ruins of Atlantis, Aurelia and her best friend—known as the "Pirate Queen" Pax—searched for both knowledge and treasure. But when Aurelia unleashed something far beyond their realm of comprehension, the two barely managed to escape with their lives.
When Pax one day comes crashing through Aurelia's window, only managing to whisper "...that thing...it's back", it's with a resigned and grim determination that she takes on the task of correcting her mistake from the past.
Having to choose between having the world obliterated or attempting to save it at the cost of their own lives, the two gather up an assortment of some of the most dangerous people in Yoru. It's together with these men that they set off to try and stop the ancient and immensely powerful threat.
But how do mortals even begin to stop a power that presides over all creation?
How can mere mortals stop the power of Chaos?
Purchase
In order to download this visual novel you must purchase it at or above the minimum price of $14.99 USD. You will get access to the following files:
mystic-destinies-echoes-early-access-win.zip
1 GB
mystic-destinies-echoes-early-access-mac.zip
1 GB